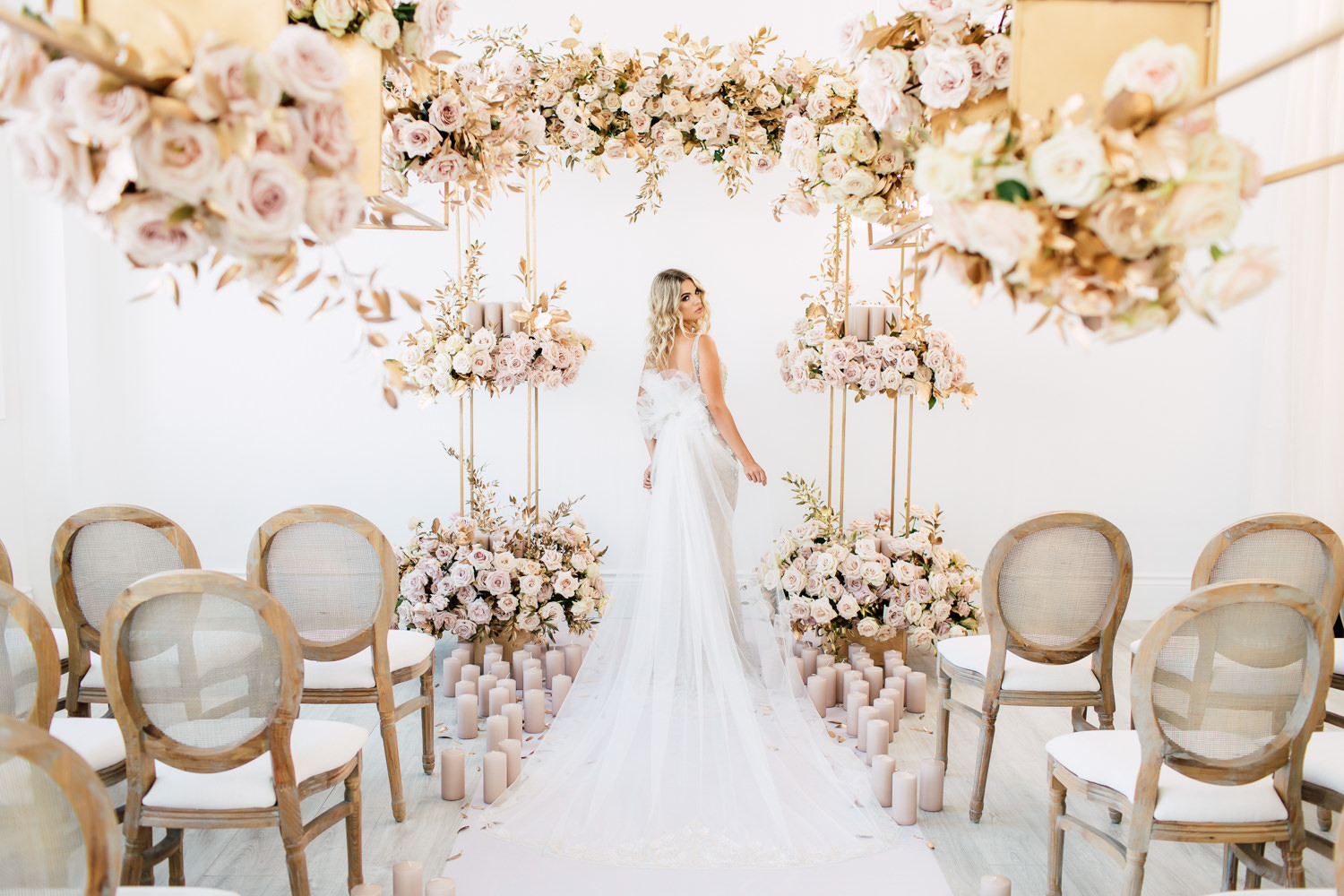 Over the years, English supermodel Kate Moss has influenced the fashion world with her own personal style. She manages to exude luxury even with the most simplest of trends. For this shoot, we worked side by side with Petals and Pearls, and Jen Evoy Makeup Studio to implement the timelessness of her beauty as a wedding inspiration.
Although Kate Moss herself had a laidback vintage style wedding, we still used her special day as a guide to our modern take. She had a short sleeve dress with a slight plunging neckline with glittery patterns trailing down her skirt. Our take on John Galliano's creation was a Berta dress fromWhite Toronto. This dress is for the modern Kate Moss, with a deeper plunge in the neckline, and a skirt that flowed more voluminously while still maintaining class. We also love how Kate Moss had a bridal party of kids – a unique concept we definitely don't see. It was the perfect creative shoot to try it out! It's not easy photographing bundles of energy, but we love how the youthfulness and playfulness translated in the photos.
With the help of Covers Couture Décor, we filled the room with nude monochromatic palette florals and decor. Who needs greenery to make it a garden? We absolutely love how the leaves are gold, making the scene look magical and out of this world. What we love about creative shoots is throwing out practicality to focus on showcasing something unique. Just like the tablecape, we love the rows of pillar candles running along the table. It's probably not a good idea to light them all, but it's a different sight from the tea candles or candle sticks we typically come across with.
The lush florals, pretty pinks and dreamy decor created a bridal oasis we want to live in!
Check out this shoot in Wedluxe Magazine's W/S 2018 edition and blog post here.