Epic Rebel Nightclub Wedding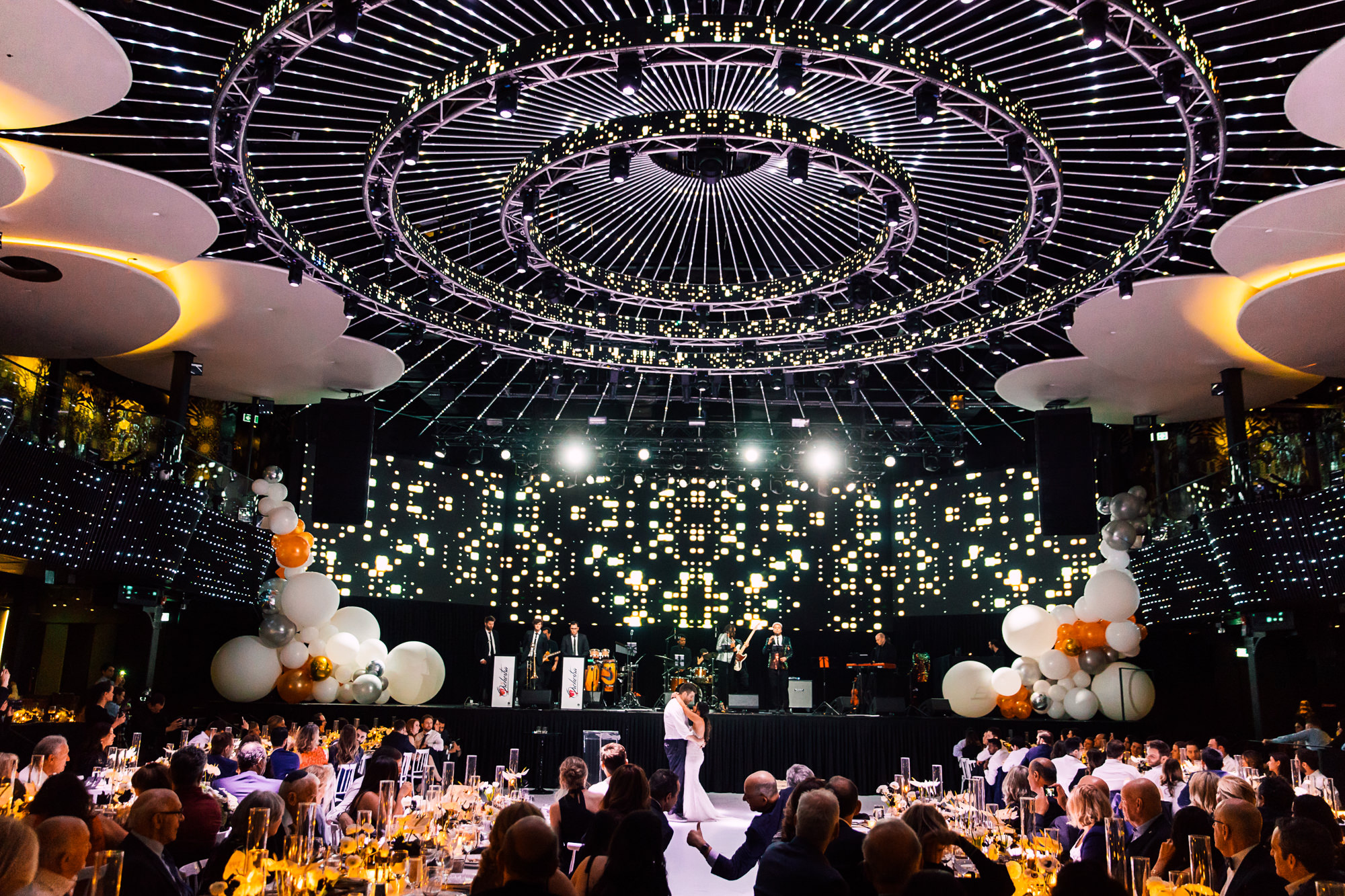 Alanna and Ryan's Rebel Nightclub Wedding
We are so excited to share this unbelievably epic wedding at Rebel Nightclub. Urban, modern and so swanky, Alanna and Ryan truly transformed the space, taking glamorous party weddings to another level!
Having your wedding at Rebel nightclub takes a special kind of couple, especially being the first wedding Rebel has hosted! Alanna is the owner of The Edible Story so naturally she catered the event, making it perfectly fit her vision. Using the multi-levels for the drinks reception, dinner and party, the space became an astounding wedding venue for them!
Alanna and Ryan's first look took place inside her parents' beautiful modern house. Who gets to have their first look across an epic glass bridge with your bridal party and families watching from below? We loved being able to capture both their ecstatic reactions as well as having their families be a part of this moment.
Wanting to take their portraits somewhere meaningful, we stopped by Alanna's storefront on the way to the venue, where there's a super trendy graffiti wall. Being able to photograph them in a space that was special for them made the images so much more expressive, and they could really relax and enjoy these intimate moments together. Arriving at Rebel, there are so many different creative backgrounds that aren't something you see every day. We wanted to photograph every spot! Of course, we at Purple Tree especially loved the Purple Room; the perfect space for us.
The ceremony took place at the top of Rebel, with endless rows of chairs leading into the incredible space. Having to sit 400 people is no joke! Extremely cool, they combined modern simplicity and geographic shapes, which appeared in the decor throughout the night. We couldn't resist some fun shots at the epic chuppah before their fun and lighthearted ceremony began.
These are definitely party people! The mother of the groom was dressed in sneakers and stylish geometric patterned pants. Everyone was on board with the fun wedding style – how special is it to say "cheers" with your grandma at your wedding (or anytime really!). Alanna's grandma was right in the middle of the action, giving us the special chance to document three generations together.
We can't get over how unbelievable the reception was! So grand and luxe, their use of black and white with geometric shapes works so well in the funky space. With such a large group of friends and family, they even set up the VIP booths as tables! The ceiling on its own is unimaginable, made even more epic with candlelit tables and balloons.
For their parents' speeches, they decided to show a video on the large screen for everyone to see. With fun stories and interviews, everyone in attendance was in stitches! As we said, this group really knows how to party, making Rebel Nightclub the perfect place to end the night. The hora was incredible and the celebration lasted well into the early morning. We can't wait for more of these party weddings!