Stunning Portugal Destination Wedding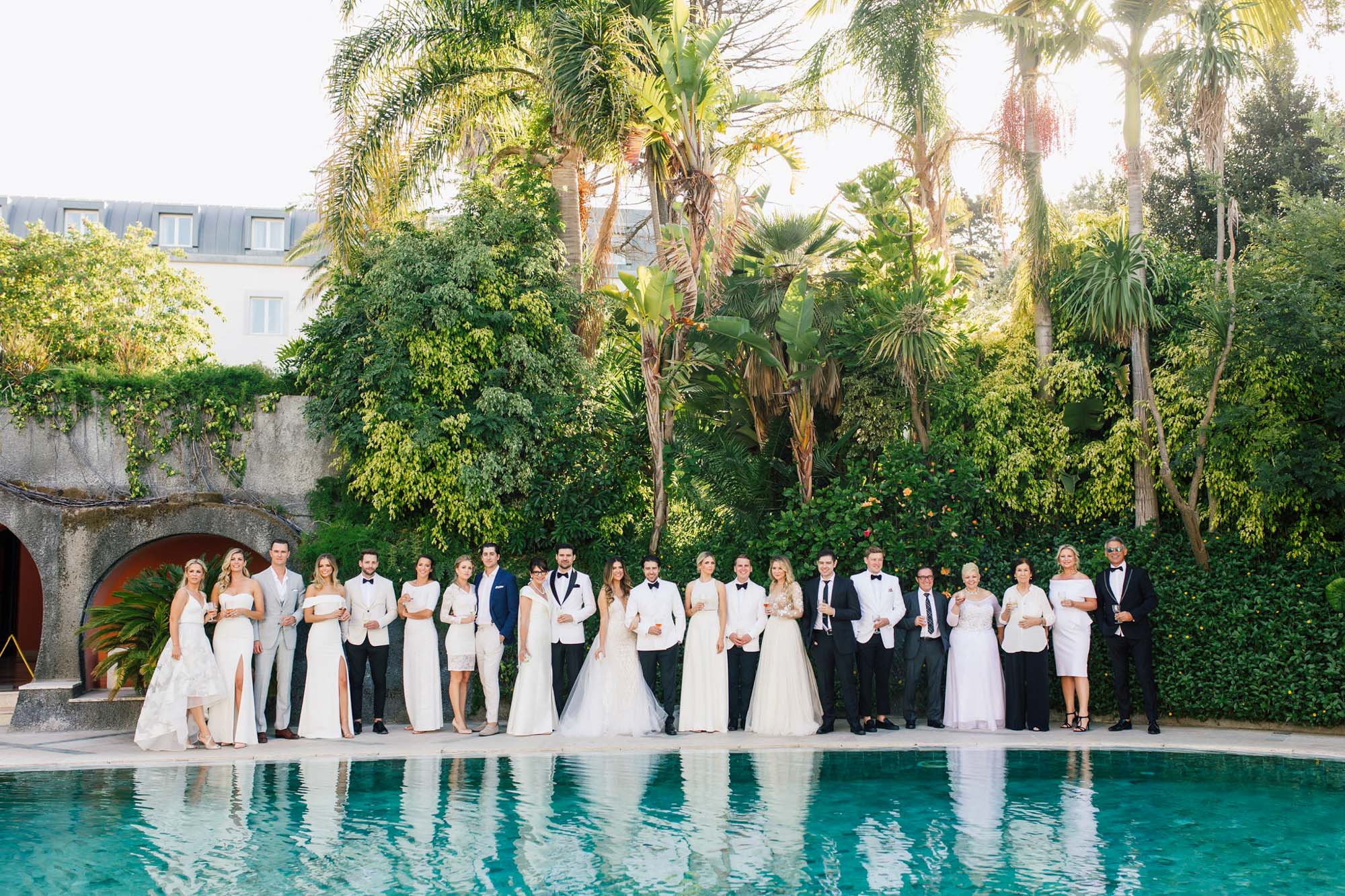 Victoria and Matthew's Sunny Lisbon Wedding
Victoria Radford, owner of Radford Studio, held her wedding in sunny Lisbon, Portugal, where she and her husband Matt had both spent time in while growing up.
The classic rule for weddings: only the bride wears white. However, some rules can be broken, and Victoria did just this. In addition to her own stunning dress, which she called a "dream confection" – a Galia Lahav design from White Toronto, she had all of her bridesmaids wear white, and other female guests wear their own wedding gowns. "It was a sea of white set against one of the most stunning landmarks in Lisbon, with lush vegetation and history all around us." As a professional makeup artist, she's worked hundreds of weddings and knew that the effect would be beautiful.
"White should be every bride's first destination," Victoria says. "Their superior selection of gowns and customer service are unparalleled. I was made to feel like an absolute princess." Not only did she feel like one, but she truly looked like one.
The wedding was held at The Pestana Palace Hotel, which offered an old-world, white-stone backdrop for the celebration, and spectacular views of the Tagus River. The two of them both have parents who grew up in Portugal, and Victoria's grandmother, in her nineties, and father still live there. Having both spent time there growing up, it's a place that they hold close to their hearts.
Dozens of white roses lined the reception area, from the tables to Victoria's bouquet. Victoria entered the celebration to Steve Winwood's "Higher Love," sung live by Billy Newton-Davis, a close family friend from Toronto. "Everyone could feel genuine love in the beautiful courtyard where the reception took place" said Victoria. "The lyrics represent exactly how Matt and I felt before we met, waiting for our 'higher love.'"
The two met at a haircare industry event when Matt was in business with L'Oreal and Victoria had her studio. Thinking his interest in her was only work-related, she brushed their encounter off – but found it hard to stop thinking about the charming and ambitious man that she had just met. She agreed to go for a coffee with him days later, and the rest is history.
During their wedding day, the two took an hour to themselves to sneak away and have a coffee date – bringing them full circle to reflect on how far they had come, and where they're going.
It was a stunning, emotional, and joyous wedding and we are so thrilled to have been able to capture the special moments. Congratulations Victoria and Matt – we wish you many more coffee dates to come.