Trendy King Edward Hotel Wedding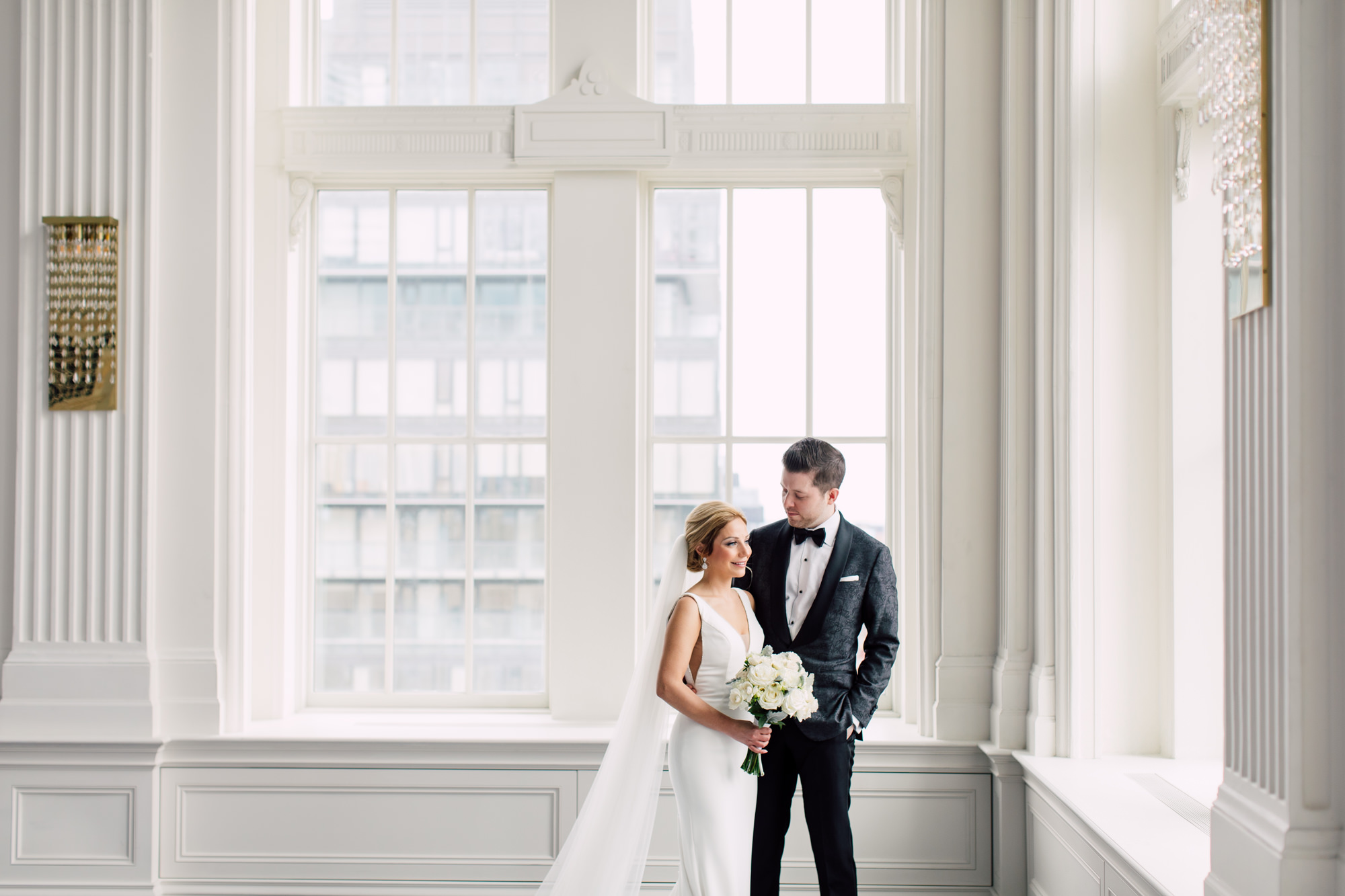 Alanna and Ian's King Edward Hotel Wedding
Getting married at the King Edward Hotel is always a classy and timeless affair, and this wedding is no different! Incorporating trendy decor with the grand historic space, Alanna and Ian's day was a stylish and traditional affair filled with golds, whites and greenery.
One of the perks of the King Edward Hotel is being able to get ready, married and celebrate all in one location! You really get to enjoy everything in one place, easing your day-of stress and making for some gorgeous photos all throughout the day!
Alanna and Ian's first look in the Crystal Ballroom was so dreamy. The grand windows are beautiful any time of year, with the light streaming in and creating a heavenly feel – they're perfect for everything! And we can't get over Alanna's gown. Simple and contemporary from the front, the lace train is exquisite and was really showcased in the images where she stands on the window ledge. Their love really sparkles in this bright space.
Chic and classy, the ceremony decor was simple yet intentional, the gold of the arbor and chairs tying in with the chandeliers. With white as the only floral colour, the space looks bright and luxe, really giving the room a timeless contemporary feel. We love seeing a swanky bridal party, all dressed in black, as this palette always adds to the elegance of the day. And what a relaxed and heartfelt ceremony it was! Everyone was laughing and enjoying these special moments.
The reception in the Crystal Ballroom was unbelievably stylish and classy. Mimicking the incredible gold chandeliers, they chose trendy gold chairs as their statement decor. By having greenery with whites and greens as the main colour combination, trendy yet classic, it's perfect for this urban traditional space! These simple shades are so impactful and incredibly glamorous.
We love how they tied in their new monogram throughout all of their stationery. From the invitations, menus and even the dance floor, being consistent in the design is super effective in creating a cohesive wedding style!
With the room transforming after dark and the chandeliers illuminating the ballroom to create an enchanting atmosphere, Alanna and Ian's night ended with everyone on the dance floor. It was a great way to end a truly exquisite day!